The Seahorse Hawaii Foundation (SHF) was established in 2006 with the mandate to work toward the conservation of the world's marine environment with a special emphasis on protecting seahorses.
Fiji has a unique and precious marine environment that we want to help protect.
Returning seahorses to the reefs around the island of Tavarua will help in building a strong foundation for a long term and sustainable relationship between the people and the marine environment.
The reefs around Tavarua are not only areas where we like to surf and play in the ocean but areas where the seahorse and many other beautiful fish and corals, which are often called the art of the sea, were once common.
We hope to help replenish and protect these precious resources.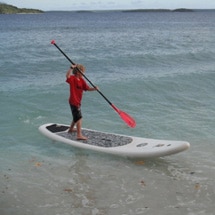 The Junior Seahorse Ambassadors will be sharing the message of marine stewardship with 12 children from the near by villages of Tavarua, Fiji from May 16-24th, 2014, at Tavarua Island Resort. Click here to learn more »