A DIFFERENT KIND OF FARM from Caroline Harding Productions.
A preview of "A Different Kind of Farm" using 4 quadrants of video to illustrate the goals of ocean conservation being promoted by Carol & Craig Schmarr, who founded the world's first seahorse farm.
An up-close look at the Hawaiian Seahorse farm, Ocean Rider and interview with Carol Cozzi-Schmarr. Carol discusses the efforts in captive breeding of seahorses and the impact of the world's ecosystems – particularly Hawaii.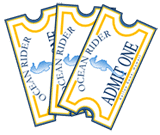 On this tour, you will see babies, pregnant males, leafy and weedy sea dragons. You will also be able to enjoy the worlds only sustainable aquarium where more than half the worlds 36 species of seahorses are on display. Tours of the Ocean Rider aqua farm are available and encouraged by all who visit Kona, Hawaii. Tickets may be purchased on-line today!
Click here to learn more about our seahorse tours.