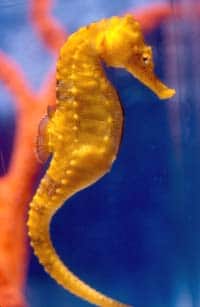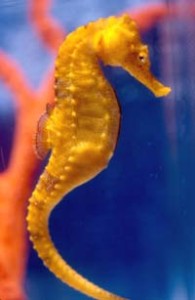 Seahorses are one of the most magical and enchanting animals in the animal kingdom. They are the stars of fairy tales and legends. The seahorse is believed to cure many ailments including sexual dysfunction in Traditional Chinese Medicine.
Their biology is extraordinary. Not only does the seahorse have a prehensile tail, and eyes that rotate 360% independent of the other, but the seahorse is the only animal in the entire animal kingdom in which the male has a true pregnancy!
The seahorse was once found in every ocean of the world from 20 feet to 100 feet which is the area most frequented by man.
The Problem
Today the seahorse is facing extinction from over fishing for the pet and medicine trade, and habitat destruction from global warming and development.
The wild seahorse is so rare today that it is rarely seen by anyone. The seahorse is now an endangered species protected by CITES (Convention on International Trade in Endangered Species).
Many Hawaiian Reef Fish are highly threatened due to habitat destruction and overfishing for food and pets.
The Solution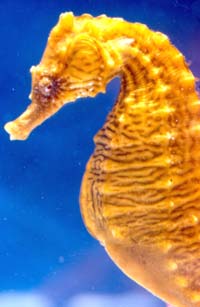 The Seahorse Hawaii Foundation is working to protect these magnificent sea creatures through education, research and propagation at our Kona Facility located within the Ocean Rider Seahorse Ranch.
Preserving the species for the future by maintaining a high health gene bank of breeding populations of each of the 34 species of seahorses, seadragons and threatened Hawaiian Reef Fish
Provide an alternative to the taking of reef fish from our oceans here in Hawaii and around the world allowing these fish to maintain their ecological niche for all to enjoy in their natural habitat. Demonstrate that aquaculture can make a significant reduction in the actual numbers of exotic marine pets and food fish taken out of the ocean thus reducing the pressure on our ocean resources preventing collapse.
Reducing the take of marine life from the ocean will help to rebalance and reverse the current collapse of our ocean resources. The successful breeding of these selected populations will establish technical protocol that can be transferred to the culture of many marine species that have not yet been cultured, including valuable food fish.
Oceanrider Seahorse Tour Tickets
On this tour, you will see babies, pregnant males, leafy and weedy sea dragons. You will also be able to enjoy the worlds only sustainable aquarium where more than half the worlds 36 species of seahorses are on display.